United against corruption 2020. "Recover with integrity"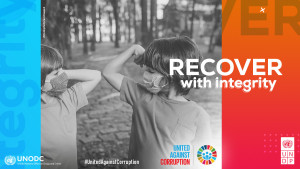 Corruption thrives in times of crisis and the ongoing global pandemic has not been an exception either.
During the COVID-19 health crisis, fighting corruption can mean the difference between life and death; adequate food or hunger; having a roof over one's head or becoming homeless.
During the ongoing pandemic all States have taken significant measures to address the health emergency and to avoid a global economic collapse. They have mobilized billions in funds to procure medical equipment and provide an economic safety net for citizens and businesses in distress. But the urgent responses required during the pandemic create significant opportunities for corruption.
Therefore this year's theme emphasizes that an inclusive COVID-19 recovery can only be achieved with integrity and accountability.
To RECOVER with INTEGRITY, we need to stand #UnitedAgainstCorruption.
RECOVER WITH INTEGRITY

States all over the world have taken significant measures to cope with the ongoing pandemic by mobilizing the resources necessary to address the health emergency, and to avoid a global economic collapse and stave off a potential depression.
In taking such emergency measures, some States may have relaxed safeguards by trading compliance, oversight and accountability for speed of response and achievement of rapid impact; thus, creating significant opportunities for corruption as never seen before.
Corruption related to the public health sector disrupts all stages of a functioning healthcare system: procurement and distribution, management in food supply chains and sanitation, as well as research and development.
A lack of oversight, transparency, and stakeholder involvement due to the urgent responses required during the pandemic have exposed vulnerabilities and weaknesses in governance systems and public service delivery.
As the world is recovering from this pandemic, countries need to address these weaknesses by bringing their national legal frameworks in line with the United Nations Convention Against Corruption (UNCAC).
This year's campaign for International Anti-Corruption Day will therefore focus on measures to reduce the risks of mismanagement and corruption without compromising the speed and flexibility demanded by the health crisis, while ensuring an inclusive recovery.
This year's motto "RECOVER with INTEGRTY" focuses on recovery through corruption mitigation and emphasizes that inclusive COVID-19 recovery can only be achieved with integrity.
This requires the involvement of strong anti-corruption bodies, better oversight over emergency support packages, more open and transparent public procurement and enhanced anti-corruption compliance by the private sector. Furthermore, countries need to ensure support and protection for whistle-blowers and journalists uncovering corruption during the pandemic.
Overall, there is an urgent need to ensure access to information about public decision-making on the pandemic relief efforts. We also need better international cooperation among law enforcement and judicial authorities investigating and prosecuting cases of corruption, which have both national and international ramifications.
The global campaign will focus specifically on mitigating corruption and enhancing accountability in:
the public health sector;
emergency/economic responses to the COVID-19 pandemic;
the private sector.
Two other related areas will also be highlighted:
Corruption in sports: Ensures sport remains a force for development and peace.
Gender and Corruption: Highlights the need for diversity to break up corrupt networks.
التعافي تحت راية النزاهة | Arabic
RECOVER with INTEGRITY | English
RÉTABLIR AVEC INTÉGRITÉ | French
ВОССТАНАВЛИВАТЬ ДОБРОСОВЕСТНО | Russian
RECUPERARSE CON INTEGRIDAD | Spanish
---
Join us on International Anti-Corruption Day in the fight against corruption by:
Organizing creative activities in your community to mark 9 December;
Utilizing the "Call to Action Matrix";
Using the Anti-Corruption logo on publications and at events;
Sending a message to your networks about the campaign;
Tweeting and posting about International Anti-Corruption Day to let the world know what you are doing to tackle this scourge.
---
CORRUPTION SCENARIOS
---
A CALL TO ACTION FOR THE WORLD TO RECOVER WITH INTEGRITY
Theme 2020: RECOVER WITH INTEGRITY: Corruption mitigation and the Covid-19 recovery 
EMERGENCY RESPONSES & PROCUREMENT
→ Transparency and accountability ensure that socio-economic support reaches those most in need.
PUBLIC HEALTH SECTOR
→ Increased oversight and transparency in the procurement of medicines, medical equipment and medical supplies is crucial to ensure the effective functioning of health care systems.
PRIVATE SECTOR
→ Oversight must not be traded for speed of response and rapid action
WHISTLEBLOWER PROTECTION
→ Protect people who have the courage to speak up to reveal corruption and wrongdoing.
GENDER AND CORRUPTION
→ The time is now to address the gender dimensions of corruption.
CORRUPTION IN SPORT
→ Integrity must be at the heart of sport's response to COVID-19.
---
SPREAD THE WORD
#UnitedAgainstCorruption
#IACD2020
#RecoverBetter
http://www.anticorruptionday.org/actagainstcorruption/en/index.html
Trackback dal tuo sito.