Year in review: The most-read press freedom stories of 2022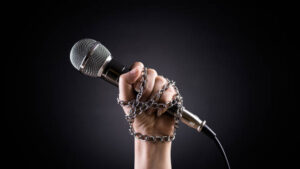 In 2022, press freedom was under near constant attack.
CPJ recorded the highest number of journalists imprisoned globally for their work in 30 years, with 363 imprisoned as of December 1, 2022. Iranian authorities' arrests of dozens of journalists amid a brutal crackdown on anti-state protests made it the world's worst jailer of the press.
CPJ's annual prison census shows that governments are resorting to retaliatory charges and the abuse of legal structures to punish the press, such as by crafting legislation with vague wording that criminalizes factual reporting. Anti-state charges are used most frequently to imprison journalists, ranging from alleged terrorism to sharing information contrary to official narratives. Alarmingly, in 131 cases, journalists have been jailed with no charge registered at all, leaving them to languish behind bars with little legal recourse.
Throughout 2022, CPJ continued to advocate for journalists unjustly held behind bars. Some highlights:
We know that advocacy and direct assistance make a difference. This year, at least 130 imprisoned journalists were released, convictions were achieved in the murders of 12 journalists, and CPJ provided crucial assistance to more than 520 journalists in 49 countries, according to our internal data.
CPJ's correspondents around the world cover press freedom news and provide analysis all year. The 10 most-read feature articles for 2022 include:
Trackback dal tuo sito.